Wizards of the Coast D&D Dragon Talk Broadcast Notes
by Mark —
published

2022/10/26 02:27:14 GMT-7

,
last modified
2022-10-26T02:27:14-07:00
Here are notes from the January 22nd, 2018 interview broadcast at Wizards of the Coast's Dungeons & Dragons, "Dragon Talk" with Greg Tito and Shelly Mazzanoble, interviewing John Welker & Hawke Robinson of RPG Research, Spokane Area Gaming Alliance, & RPG Therapeutics LLC, about role-playing game education, therapy, and more. Currently a work in progress. I am working on it each day in small snippets of time while juggling everything else. I will let folks know when it is ready for sharing.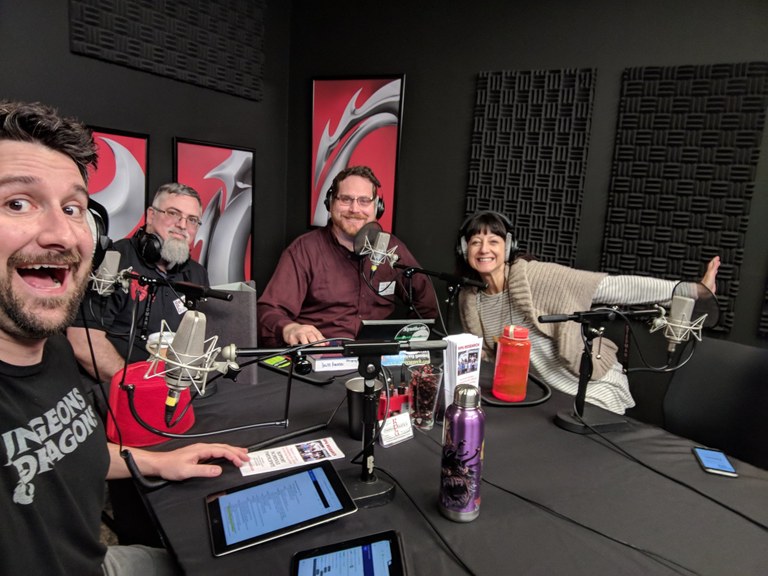 Here is the recorded video if you missed the show (1:17:12):
Transcript for Deaf, HoH, and Visually impaired screen readers (a work in progress): 
http://www2.rpgresearch.com/documents/rpg-research-project/transcripts/rpg-research-on-dragon-talk-20180122-transcript
Show Notes:
Show websites:
Hasbro:
Wizards of the Coast
Dungeons & Dragon
Dragon Talk
Show Hosts:
Greg Tito:
Shelly Mazzanoble:
Guests:
Hawke Robinson
John Welker
RPG Research website: http://rpgresearch.com
Definition of role-playing game (RPG): http://www2.rpgresearch.com/documents/wiki/glossary/rpg
Description of Tabletop RPG: http://www2.rpgresearch.com/documents/wiki/glossary/trpg
Description of Live-Action Role-Playing (LARP): http://www2.rpgresearch.com/documents/wiki/glossary/larp
Computer-based RPGs (CRPG): http://www2.rpgresearch.com/documents/wiki/glossary/crpg
Solo Aventure books & modules (SABM): http://www2.rpgresearch.com/documents/wiki/glossary/sabm
Role-playing gamer: http://www2.rpgresearch.com/documents/wiki/glossary/rpger
The Wheelchair Friendly RPG Trailer: http://rpgtrailer.com
Hawke's Radio, music, & talk shows:
Dr Z & The Synthetic Zen Show on NEKKID Radio:
The Synthetic Zen Show on KYRS FM Radio:
Tech Talk With Hawke on KYRS RM Radio:
Tech Talk With Hawke Blog:
Middle-earth Talk Show:
The Hawke Talk Show:
Dragon Talk D&D News, going on in the D&D world:
Unearthed Arcana articcles from Mearls & Crawford, now available on D&D Beyond week later for download. "Beta testing" D&D ideas.
Zuggatmoi wedding? artwork:   Michonid....
Avalon Hill website
Betrayal: Legacy
Betrayal at House on the Hill.
Betrayal at Baldur's Gate.
Organized Play website(s):
Joey from Full House:
Fuller House
Show: Blossom
Theater Play: "Don't Split the Party":
About a group of 25-30 year old adults that played D&D for a long time, and something happened in a session months ago, and DM tricks everyone to show up at the house, and "we're not leaving until we resolve this past issue."
Small black box theater.
Theater & Media representation of role-playing gamers.
Playwright: "Nathan Kessler Jeffrey".
John Welker's organized play site(s):
Zombie Orpheus Entertainment (ZOE):
Website:
youtube:
Twitter:
Dead Gentlement Productions:
Did Greg's mother check out the episode? Any questions/comments she has? Did it help?
Greg played D&D with his young daughters, ages
Example adventures of little children & RPG adventures, Michael Tresca articles:
RPG Research LARP program for 2.5 to 5+ year old toddlers, general population and autism spectrum.
See Stuart Brown's book on the biological necessity of play in his book, "Play, how it .... "
More D&D News:
Dragon Plus: ..... Talking to Duck Davison (sp?) of Fantasy Grounds.
Interview of artist of most recent cover of Dragon Plus.
D&D news:
Dice, Camera Action:
Girls, Guts, Glory: 
Moira:
D&D Risen:
Furies Fate:
Encounter Role-play:
Will Jones. Teaching how to Dungeon Master.
Get Smart, Cone of Silence. Maxwell Smart.
RPG Research is non-profit 501(c)3 charitable, 100% volunteer run organization.
Pure research focus part of the website:
Community programs:
RPG Therapeutics LLC
Website:
Professional services:
Professional training services:
Professional certification:
Citation: Paper in 2006/08 on number of studies .... (Kesler?):
Correlation versus causality. Definition links:
Correlative claims made about RPGs and/or RPG players, "gamers", the list:
RPG / D&D will...
....
....
....
...
...
...
...
...
...
..
Citation of study on analysis of media mentions of RPGs, and rates of neutral, positive, negative:
Claims of RPGs / D&D cause/increasing risk of suicide, or that gamers  in general more likely to commit suicide:
Citations: BADD link:
Dr. Tomas Radecki link:
Patricia Pulling link:
60 Minutes video link:
CBC video link:
Newsweek link:
other citations?
Citations about much lower lower suicide correlations for gamers than general population:
Using detractors own numbers:
Other studies:
Examples of those using RPGs in treatment of depression and suicidal depression:
Pychiatrist(s):
Psychologist(s):
Others:
Learned Helplessness definition link:
Meaninglessness definition link:
Play Therapy.
Technique/style
Differentiation from Recreation Therapy
Play therapy more passive observer
Children express through their play rather than words with adults
Recreation therapy more directly involved with client.
llay therapy for pre-verbal stages developmental stages/functioning
Hawke & John's registration numbers as Washington State Department of Health Recreational Therapist:
Hawke's Registration number:
John's Registration number:
Egan, Ghost Busters II, experiment clip:
Study on meaningless & RPG gamers:
College students the most highly researched population (disproportionately so, and this causes problems with the results of research not taking into account the rest of the population that does not have college background).
Research on criminality of RPGers:
Research on violence tendencies and personality types of RPGers:
Research on Trait-based hostility responses to video game violence:
Type A Personality definition link:
Type B Personality definition link:
Research on RPGers & The occult/Satanism:
Causal research definition link:
Controlled edxperiments definition link:
Survey experiments definition link:
Controlled variables research definition link:
Control groups definition link:
Placebos definition link:
etc.
John's introduction to D&D / RPGs. His grandmother. White box set. John was 10 years old, 1977.
D&D White box set:
Mostly GM since then.
RPGA
Living Greyhawke
Wotc Delegate
GenCon Open D&D Judge
Local area coordinator for D&D Adenturere's League in Spokane area.
Personality of John: Prefers to have the whole story and tell the story.
John player a High Elf Bard in Heroes of Mist upcoming show, http://mistheroes.com
Hawke's initial experiences with RPG, D&D.
1983 - 8 page essay, RPGs, the Myths & reality.
The Anti-gaming m
ovement part of the Satanic Panic / Moral Panic of the 1980s :
Realms of Inquiry: A school for gifted & talented children:
response to Shelly's question:
research on Gifted CHildren & RPGs:
Hawke's computer science / tech background:
Hawke's theater background, IMDB link:
Hawke's Automotive background/resume:
Hawke's computer training schools, old snapshot from archive.org
Hawke's philosophy to tech instruction at the time, now fits in line with current neuroscience on learning:
Hawke uses video games to help with typing, computer classes, general classes, ADHD kids, token economy, positive reinforcement for grades, coputer parts, etc.
Hawke is student at Eastern Washington University working  part time on interdisciplinary degree in: Recreation Therapy, Music, Neuroscience, & Research Psychology.
Quotations on needing more cooperative activities in TR, in textbooks and articles:
Kids need to cooperate not compete citation link:
Wheelchair basketball photos & links:
Uno cards for TBi links.
ATRA definition of Tr.
Measurabled, achievable goals.
Biopsychosocial holistic approach to TR:
Intrinsic motivation:
Extrinsic motication:
My explanation of TR: "quot....." video: ....
Drum circle workshop links & photos:
TR certification:
NCTRC
CTRS:
ATRA:
AMTA certification:
BC-MT:
Origin stories of TR & MT
Intervention modality...
ZOE video clip on flow state.
Mihalyi Cziksemtmihalyi on Flow:
Hawke's short video clip explaning about Flow state, embeded here:
Malow's Hierarchy of Needs pyramid, and link to explanation:
Enjoyment factor, hard work is now hard fun, more likely to stick to.
More positive attitude means not only better outlook due to sticking to it, but jest negative attitudes versus positive attiudes impact healing, chemically:
Citation:
TBI = Traumatic Brain Injury
Speech Therapy:
Discharge Transition planning, a key part of Tr training.
TR has big advantage of being trained for groups, most professional are single person traifning.
Ranchso Los amigos tage Ii definition:
Newer/other coma coherence stages:
Example program plan for TBI using RPGs from Hawke:
PDF by Hawke:
Program plan by RPG Research:
Video presentation on the above, embed video here:
Neuroplasticity definition link:
Organic brain damage definition link:
Physical Therapy definition link:
Music Therapy definition link:
Program, with videos, using singing portion of brain to regain speech:
Article
Video clip embedded here:
TR RPG Transition / Exit plan examples:
Navos in-patient to out-patient youth drug rehab TR & RPG transition plan
Saint luke's TBI & SCI exit transition plan and RPG examples:
RPGs and Drug rehab & gang culture, new gaming peer group.
Navos Mental Health website link:
RPGs for treating Social phobias, etc:
Social phobia definition:
Agoraphobia definition:
Panic attack definition:
Blog entries on rpg research talking about this.
Phobia exposure techniques: Flooding, and incremental:
Exposure therapy definition:
Incremental:
Flooding approach:
John Welker's Uncle's games:
Research on experiences of Gender bias in the gaming Industry & COmmunity (since 2013):
IRB = Instituational Review Board. Definition link:
WSU IRB Info for the above study included in that stuidy's link.
Quantiative research definition link:
Quaalitative research definition link:
Changes over time in the above research. Pre-and-post Gamergate, and any progress made?
Push back, refusal to participate that was NOT there before gamergate. Much higher after.
More awareness of the issue, but not yeet seeing schange show up in data yet.
Optimizing the gaming experience in general. Extensive research by Hawke being uploaded to massive document here:
RPGs for Deaf / ASL groups.
Flyer
Program explanation
Program additional information
Vision impairment and RPGs.
ASL sign for CRIT???
PNWATRA:
Website link:
RPg Research blog entries links:
Audio/video/slideshow from Hawke at PNWTRA;
Professor Datillo bio link at Penn State:
Datillo's work on exploration and learning:
Hawke's essay on Cognitive Neursoscience of learning and RPGs:
Elaboration Cogneuro definition:
Distinctiveness Cogneuro definitio:
All 5 (6) senses:
Aphantasia definition:
Hawke writing chapter in the next edition of the book:  Current version of the book:
The only other book on this topic from another author:
Professor messine at EWU change to Dattilo book when it is in there:
RPG Research 100% non-profit volunteer, 501(c)3 chartiable organization.
RPG Research volunteers page:
RPG Research volunteer sign up form:
Danielle Whitworth's profile on RPG Research:
Wheelchair Friendly RPG Trailer: website.
Photos of RPG Trailer with Greg & Shelly & Hawke & John:
...
...
...
SpoCon:
RPG Research at SpoCon:
Fan Nexus:
RPG Research at FanNexus:
Spark Central:
RPG Research at Spark Central
RPG Therapeutics LLC: Formal training & certification.
RPG Education.com by RPG Therapeutics LLC: http://rpgedu.com
Students in Montreal, CA,  U.K.
Ph.D. professional psychiatrists taking our programs to add to their toolset.
Autism spectrum & RPG.
How do people with ASD find out aobut RPG?
Program plan for ASD & neurologically normal toddlers, LARP 2.5 to 5 years old.
Photos:
Hawke started his 3 boys on RPGs at 4,6,8 years old.
ASD 8-30+ years old.
Z-Day program photos & links:
1940s ASD & others, skills dev program photos & links:
Tacoma, Seattle, & Other city's Zombie Walks:
The social skills development built into the RPG experience:
research links...
Strong facial/mood, body language, voice, recognition of other's moods for mind blindness for ASD & similar.
Player Archetypes.
Certified Player ARchetyp.
GM Archetypes
Wheelchair Friendly RPG Trailer:
RPG Bus:
RPG Trailer current version ifs prototype.
Fundraiser for ideal version: http://gofundme.com/rpgtrailer
See list  reasons and FAQs about RPg Trailer: http://.....
Pros & Cons of current Prototype RPG Trailer.
Benefits of the Ideal RPg Trailer:
Facilitaties limitations & benefits.
Rural services, for undersereved & un-served areas.
We would lvoe to be asked to speak at GenCon
We would love to be asked to speak at PAX.
RPG Research as Accessibility Advocates for SpoCon:
Access for All Spokane:
John's contact information:
Facebook Page: SAGA:
D&D AL Spokane:
john@rpgresearch.com
John's profile on RPG Research
RPG Research Youtube:
Mist Hersoes:
Realtime artist
Interactive audience, XP acquire & spend
Jet City improv from Seattle
RPG Research
Volunteer Sign up.
Background check requirements.
Greg's reference to Tindr: ....
RPG Therapeutics LLC:
RPG Education:
RPGTrailer:
RPG Bus:
RPG Network.net:
Gofundme.com/rpgtrailer
Patreon for RPG Research for research & community programms: patreon.com/rpgresearch
Twitter:
G+:
ello.co:
Pinterest:
Instagram:
Linkedin:
rpgresearcher at gmail dot com
Dungeon Master of the Board Room
NWN Aurora Toolset, NWN Enhanced Edition coming release:
NWN powerful use for RPG Research:
@shellymoo
@gregtito
Dungeons & dragons.com website:
Dragontalk website:
D&D Twitch site: http://twitch.tv/dnd
D&D Youtube channel:
Responses to TwitchAudience Comments/Requests/Questions