Welcome to RPG Research
by Hawke Robinson —
published

2019/02/02 18:11:00 GMT-7

,
last modified
2019-04-03T09:29:45-07:00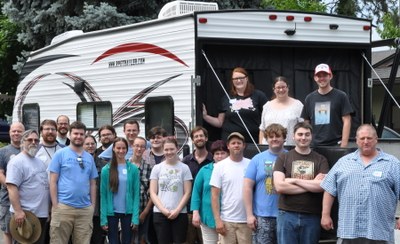 Improving lives through role-playing games.
We are helping people heal, improving the quality of life for diverse populations around the world, by providing accessible & inclusive, collaborative research-supported programs, using music and role-playing games.
We more than 50 volunteers around the world, spanning 4 continents (and growing!) researching the effects of all role-playing game formats. We advocate and train people on improving accessibility and inclusiveness. We travel the country in wheelchair accessible RPG Bus and RPG Trailer helping raise awareness. We run multiple community and outreach programs each week called Drop In and RPG. We provide free and open community programs and frequent live broadcasts every week.
Researching RPGs since 1983, providing programs in schools since 1985, in therapeutic settings and online since 2004. We are a 501(c)3 non-profit. RPG Research provides an open international community, sharing, studying, and providing accessible & inclusive, collaborative music and games, to help improve people's lives! 
Why Are You Here?
Community - Education - Research - Learn More
We use music and role-playing games to help improve the lives of diverse populations around the world!
Our network of volunteers and partners provide community programs, research, training, outreach, advocacy, and more with daily programs at various locations around the world and online.
Our Regular Music & RPG Programs (local, international, and online variants):
See our Schedule and Partners pages for more details. Here is a short summary of just a few of our many regular and recurring programs available to the public:
The RPG Tour, travelling the country to raise awareness about accessibility, inclusiveness, and the power of music and RPGs to heal and improve quality of life.
Wheelchair accessible RPG Bus
Wheelchair accessible RPG Trailer
GM Training Workshops - Saturdays & Sundays
Heroes of the Mist Audience Interactive TRPG - Sundays
RPG International Researchers Meetings & Projects - Sundays & Tuesdays
RPG Theory Broadcasts - Mondays & Thursdays
Applied Gaming Broadcasts - Mondays, Thursdays, Fridays, Saturdays, Sundays
RPG Talk Show - Thursdays
Drop In & RPG Community Outreach programs helping dozens of people each week - Fridays & Weekends
Drum circles
RPG Retreats. periodic intensive music and RPG training retreats.
Our Special Programs Providing Music & RPGs
Accessibility & inclusiveness advocacy, outreach, and training
ADHD
At-risk youth
Autism Spectrum (ASD/PDD)
Brain Injury
Cerebral Palsy (CP)
DD/DI
Deaf and Hard of Hearing
Depression
Drum circle facilitation training workshops
Game Master training workshops
Gifted & Talented children
Incarcerated populations
Long-term care faciities
Muscular Dystrophy Association (MDA)
Rehabilitation facilities
Trauma and PTSD
Social skills development
Social phobias
Substance dependency rehabilitation transition
Various Alternative School Programs
We provide music and role-playing game research and community programs.
We openly share and work with individuals and organizations around the world, from many areas of interest, with the goal of improving the overall human condition through cooperative experiential programs using music and games.
RPG Research is a 501(c)3 research and human services non-profit charitable, 100% volunteer-run, organization.
Our staff began using role-playing games in the mid-1970s, and have been researching their effects since 1983, using them in educational settings since 1985, and in therapeutic settings since 2004!
We use collaborative music and games to help people improve their functioning and quality of life, including: ADHD, anxiety, ASD, at-risk populations, brain injuries, CP, Deaf/HoH, depression, impulse control, mental health, muscular dystrophy, social phobias, social skills development, substance dependency transition, turn-taking, and many others.
How Can You Help?
Join the Community - Share Your Perspective - Sign-up as a Volunteer - Donate - Participate in Community Programs